The Elvis Presley Story 13 Hour Radio Show 13 Vinyl Records Rare Collection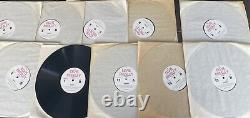 This is a rare collection of 13 vinyl records featuring the 13-hour radio show "The Elvis Presley Story". The records come in a deluxe edition cardboard box set and include live recordings and non-music interviews with the iconic artist. The records are in excellent condition (EX) and have a low-fidelity sound quality. The vinyl matrix number is EPS-1-B-C Watermark, Inc. 1974 and the catalog number is Watermark.
The release year is 1975 and the edition includes a special, collector's and limited edition. The record size is 12 and they play at 33 RPM. The sleeve grading is excellent (EX) and the inlay condition is also excellent (EX). This is a must-have for any fan of Elvis Presley and a unique addition to any vinyl record collection. Records never been played excellent condition.