Rare Vintage Elvis Presley Chalkware Ceramic Bust Statue Kitschy Decor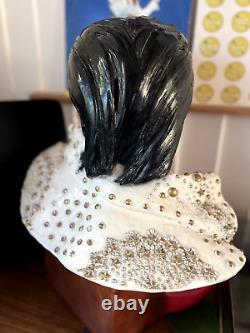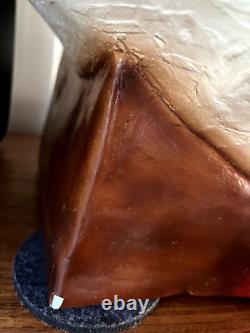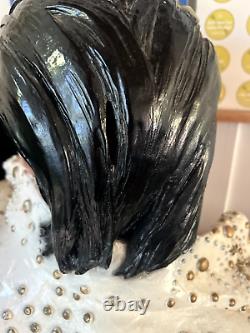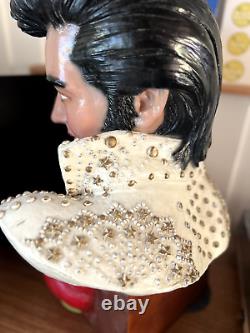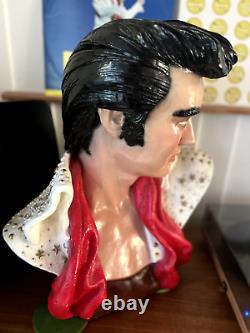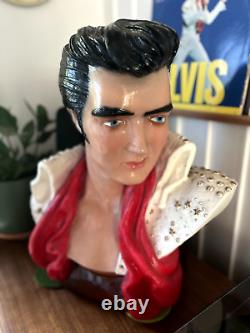 We can't help falling in love with this very vintage chalkware bust of the motherfcking King himself. Produced in the late 60s/early 70 (when awesomeness reigned like The King, himself), this hand-painted bust has really captured the essence of Elvis - from bedazzled jumpsuit, piercing blue eyes (that follow you around just a little) to the slight sheen of sweat he was famous for as he busted out the words and hip shakes that made the ladies swoon. And we're still swooning today - just look at that hairless chest!
Measuring 20 tall, this is a heavy piece of ceramic that is also.. Yes, hidden in his hair is a slot to put all your precious pennies so you could one day save up to visit Graceland.
Vintage 1970s Chalkware/Ceramic Handpainted Elvis Bust. This is a pre-loved dandie; in excellent vintage condition, there's a small chip of paint on the back bottom (see photos). The stopper isn't really removable without removing a little bit of ceramic (not sure what happened there), but is no problem if you don't intend to use it as a bank.