ELVIS PRESLEY ELVIS Rare DELUXE PACKAGING UK PRESSED 180 Gram LP withBonusCuts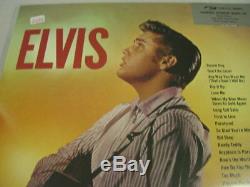 ELVIS PRESLEY - ELVIS - Mymusicfix Celebrates The Life & Memories of "The King" WITH THIS TREMENDOUSLY RARE SIMPLY VINYL 180 GRAM ORIGINAL SILVER STICKER 2000 EDITION WITH 8 BONUS TRACKS ONLY AVAILABLE ON THIS LIMITED COLLECTORS EDITION. THIS IS OUR LAST COPY FOREVER AND AS A COLLECTORS YOU NEED TO NOTE THAT THIS IS THE ORIGINAL 2000 1ST EDITION OF THIS RELEASE ON 180 GRAM VINYL NOT THE RE-ISSUE ON 140 GRAM VINYL WITH THE SAME BARCODE. Simply Vinyl UK products have the best collectors. Heavy duty protective packaging of the product in the business. This deluxe REUSABLE packaging allows the owner a tremendous way to store that item once opened so it stays in pristine condition for the life of the product.
No other company ever put this much cost into there packaging for collectors. Out of print collectors Limited out of Print 180 Gram Edition comes with 8 bonus tracks that were not apart of the original release. We only have a couple pieces left forever. HEAVY VINYL LIMITED EDITION 180 GRAM PRESSINGS ARE NOW OUT OF PRINT & BECOMING TREMENDOUSLY RARE.
THESE 1ST EDITION PRESSINGS WERE MASTERED IN ANALOG AND THE NEW AMERICAN PRESSINGS SAY NOTHING ABOUT HOW THEY WERE PRESSED AND THAT USUALLY MEANS THEY ARE DIGITAL. BUT NO MATTER WHAT THESE U. 1ST EDITIONS IN HEAVY VINYL WITH THE BONUS TRACKS ONLY AVAILABLE IN THIS EDITION ARE GOING TO BE WHAT COLLECTORS SEEK OUT BECAUSE IN THE LONG RUN 1ST EDITIONS ARE ALWAYS MORE VALUABLE THEN LATTER PRESSINGS.
Mymusicfix has an exclusive list of these Silver Edition titles you will not find at any Audiophile Vinyl Dealer anywhere (Silver Collection refers to the marketing sticker attached on the front and back of the sealed product - not the Second Generation and beyond Gold Stickers). They are known to be some of the finest rock titles ever pressed in Limited Edition Heavy Virgin Vinyl with the best protective packaging ever within the Industry. All the titles Mymusicfix is listing in this newsletter are what we classify as "Here Today, Gone Tomorrow" Collector's titles.
These pressings are tremendously limited in these Silver Edition Pressings and Mymusicfix is down to our last few copies. Don't Miss Out on these Rare Out Of Print Pressings - Enjoy being one of the last people in the world to own one of these Silver Limited Edition heavy vinyl gems. & TYPE IN EPRESLEY INTO THE SEARCH FIELD WITHIN OUR STORES SECTION AS YOUR PERSONAL CODE AND ALL INDIVIDUAL TITLES + INFORMATION WILL APPEAR. Elvis provided us with a lot of material in his short life.
Mymusicfix is celebrating his career with a focus on rare titles that are still available in very limited editions which are long out of print & some of the rarest sonic gems in existence. Fans & collectors of Elvis Presley products do not want to miss out on any of mymusicfix specials celebrating the career of "The King". You will be one of the last people in the world to own these masterpieces.
We suggest you do your homework & see if you can find any of these titles at any major audiophile retailer in these pressings. You will soon understand how rare mymusicfix Elvis Presley selections are & how you will be one of the last few proud owners of these rare collectibles.
Most titles are mymusicfix last copies FOREVER. So Don't Miss Out because what is here today is gone forever tomorrow.
180 Gram Limited Edition Simply Vinyl classic analog LP (made in England - has the best protective packaging Ive seen) high-definition Virgin Vinyl pressing for superior fidelity. Collectors Alert : Many of these Simply Vinyl Titles will never be available again. Their license to produce these 180 Gram Masterpieces with Universal Records International has Ended. This means that this specific title is now out of print forever and there are very few remaining is sealed condition. This title is going to skyrocket in value & price over the next few months.
So Don't Miss Out on being one of the last people to own this outstanding pressing. This is one the last pressing you will ever see at this price.
Check out my other items. The nicest thing you can do for your stylus and your ears.
The ultimate record -- the way music was meant to be heard and of superior quality for any Audiophile. You should never pass up the opportunity to upgrade your collection. They're each very limited in their pressings and disappear with extraordinary quickness from the vinyl market. This causes prices to skyrocket because once they are gone, they are gone forever! Don't second-guess yourself with this chance to upgrade your collection because before you know it, the opportunity will have passed forever. Completely re-mastered and featuring additional tracks and new sleeve notes but keeping that wonderful cover of Elvis in a side profile, ELVIS is packed to the brim with stacks of legendary rock n' roll classics. We're talking the phenomenal "Hound Dog" and "Don't Be Cruel" both No.
1 US'56, the rockin' "Rip It Up" No. 27 UK'57, "Love Me Tender" No. 1 US, the seductive "Paralyzed" and "Too Much" No.
Other tracks include "Any Way You Want Me", "Love Me", "Long Tall Sally", "Old Shep", "Ready Teddy", "Anyplace Is Paradise" and "How Do You Think I Feel" amongst many others. Also, apart from the classic cover looking so much better on 12 square thick card, let's not forget that vintage Rock n' Roll was designed for the vinyl medium in the first place so this is well and truly how it should be heard - especially on great, luscious 180 gram pure vinyl. Tracks include: Hound Dog - Don't Be Cruel - Anyway You Want Me - Rip It Up - Love Me - When My Blue Moon Turns To Gold Again - Long Tall Sally - First In Line - Paralyzed - So Glad You're Mine - Old Shep - Ready Teddy - Anyplace Is Paradise - How's The World Treating You - How Do You Think I Feel - Too Much - Playing For Keeps - Love Me Tender. Check out Mymusicfix for additional Audiophile Vinyl by hitting ME OR the Mymusicfix STORE tab.
Mymusicfix has been told we have the best collection of Rare, Out of Print music collectibles on E-Bay. EPRESLEY SMNVL 180G BIGHITS BIGHITS2 1STSMVNL. FACTORY SEALED OUT OF PRINT PRODUCT is IRREPLACEABLE and therefore NOT RETURNABLE. International Buyers are responsible for their countrys. The item "ELVIS PRESLEY ELVIS Rare DELUXE PACKAGING UK PRESSED 180 Gram LP withBonusCuts" is in sale since Saturday, October 11, 2008.
This item is in the category "Music\Records". The seller is "mymusicfix2" and is located in Lake Forest, California. This item can be shipped worldwide.
Country/Region of Manufacture: United Kingdom
Duration: LP
Speed: 33 RPM
Record Size: 12"
Edition: Collector's Edition
Special Attributes: 180 - 220 gram
Genre: Oldies
Style: Rock 'n' Roll
Artist: Elvis Presley
Record Label: Phantom Import Distribution
Release Year: 2005