ELVIS PRESLEY 1st Release 78 THAT'S ALL RIGHT SUN 209 U-129-2 #72 RARE V+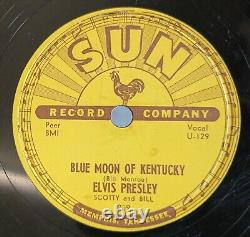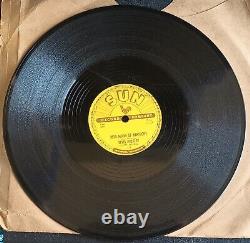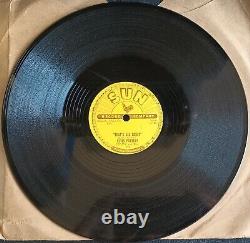 Own a rare piece of rock'n' roll history with this first pressing 78rpm of the first recording by the legendary Elvis Presley. The record features the songs "That's All Right" and "Blue Moon of Kentucky" and was released in 1954 by Sun Records.
Run-out grooves have U-128-2 OK #72 and U-129-2 OK #72 etched into dead wax. It is made of black shellac material and is graded Very Good (VG) or V+ by VJM grading standards. Light wear on labels and a few tiny, light spots on label side w/Blue Moon of Kentucky, record itself has light marks and one short (1/4 inch) feelable scratch at the beginning of That's All Right, but plays nice and loud and has no skips, chips, etc, and a nice sheen. This collectible record is a must-have for any fan of rock'n' roll/rockabilly, and is sure to be a prized possession in any vinyl record collection. Don't miss your chance to own a piece of music history with this rare first pressing 78rpm record by Elvis Presley.
This is the one that changed history!