ELVIS PRESLEY Rare Orig RCA Victor SPD-23 Triple EP Set withGatefold Cover NICE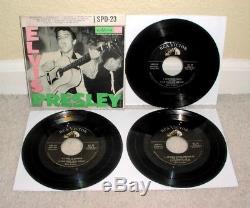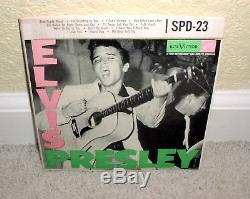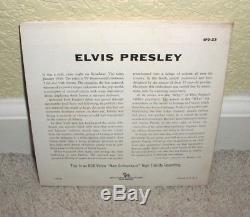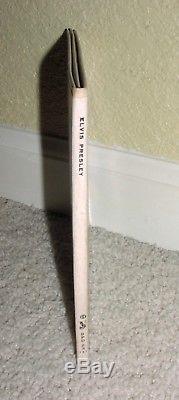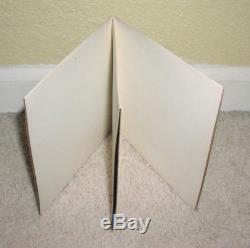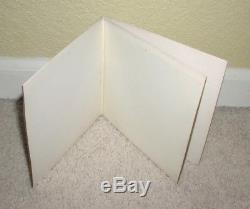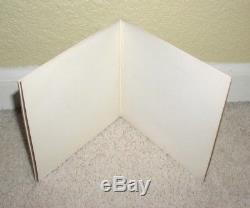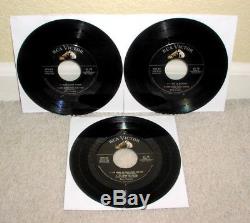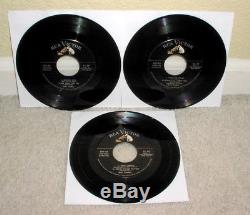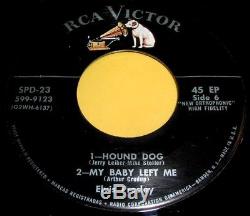 Riginal 1950s Elvis Presley, self-titled, three-EP set with gatefold cover. On the RCA Victor label SPD-23 (first pressing, black labels with the Nipper dog at the top and with the horizontal silver line). This is a guaranteed original pressing. The matrix numbers are machine-stamped. In the deadwax area of all six sides of the records.
This very rare set was a bonus/promotional item that was available only to buyers of a higher-priced, Elvis Presley "signature model" Victrola 45 rpm record player back in 1956. This is a very unique opportunity to own this set complete and in very clean, well above-average condition!! Please review the photos for all additional details. The gatefold cover is a sharp, bright and attractive VG++ and it really looks outstanding overall!!
There is just a little minor unevenness along a couple of the edges (mainly the opening/record pocket edges). This was probably the result of it being stored tightly with other records for many years...
There is also one little (one-inch)'pressure break' in the surface paper along the left spine/folding edge of the front side only; it is not a seam split. O splits, no tears, no creases, no writing, no stains, no holes, etc. Really an amazing-looking cover overall and certainly much better than many I've seen offered over the years! In the beautifully clean VG+ to VG++ condition range with full gloss and all six sides play either quite nicely or great overall!! No more than a quick little'pop' or very minor surface anomaly here and there, but no skips, no bad surface noise, no prolonged'ticks' and certainly no chips or cracks etc. The sides 1 and 6 record has a very minor storage warp that does not affect play at all. The sides 3 and 4 record has a slightly more noticeable storage warp but, again, this does not affect play at all in any way whatsoever. This is likely just the result of the records sitting untouched tightly inside the cover for so many years; these records don't look like they were handled or played much at all otherwise!! I played all six sides with a regular Stanton stylus (tracked at 1.5 grams).
All of the labels look great also, with no writing or stickers on any. There is one very tiny little'speck' mark near the top of the side 1 label only. The vinyls and labels have all of their original gloss and shine and, all things considered, these records are in pretty remarkable shape overall!! Records are now housed in newer, polylined/antistatic sleeves outside the actual cover.
Buyers : Due to the rarity and value of this item, I will. The item must also be insured for the full.
That are assessed by their country's government. Please scroll below to see my full vinyl and cover/sleeve grading guidelines. I personally write all of my own titles and descriptions, take all of my own photos, and package all items for mailing myself. I do not use text, photos or information from other sources and would certainly never do so without referencing them. Items pictured in any of my listings are.
The actual items that buyers will receive from me. This policy applies to U. Buyers alike and regardless of the final sale price of the item. My vinyl and cover/sleeve gradings are as follows.
MINT: I do not use this grade except for sealed/unopened items. NEAR MINT or MINT MINUS: Vinyl looks basically brand new, untouched, unplayed or nearly unplayed. Cover looks pretty much as new with no real flaws to speak of. This is basically how the item would have looked when it was new from the factory.
Cover may show just the barest hint of wear from age, but nothing at all serious or detracting. VG+: Vinyl shows some subtle signs that it was played in the past, but was generally well taken care of. Cover shows only some minor signs of age or wear, but nothing too detracting. Cover is beginning to show more signs of age and wear, but is fully intact and still displays very well overall. GOOD: Vinyl has very obvious signs of wear from over the years, but still plays strongly and enjoyably enough.
Cover has obvious wear and tear from age, but is intact and still displayable. My very good and good records are very good and good, not bad and even worse! I also do not use the EX (excellent) grading at all.
FAIR: Record wasnt properly cared for in the past and very clearly shows it, but it is still playable and should be enjoyable enough for some. I rarely offer records in this condition. The item "ELVIS PRESLEY Rare Orig RCA Victor SPD-23 Triple EP Set withGatefold Cover NICE" is in sale since Sunday, October 7, 2018.
This item is in the category "Music\Records". The seller is "mcusher" and is located in Westminster, Colorado. This item can be shipped worldwide.