Elvis Presley 10 LP Sammlung Japan 1973 rare RCA RI Series OBI = Copy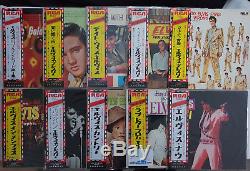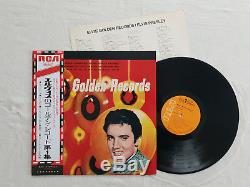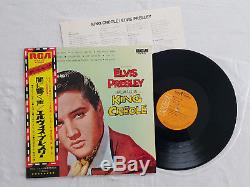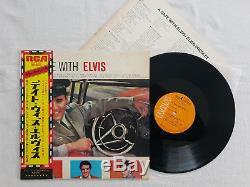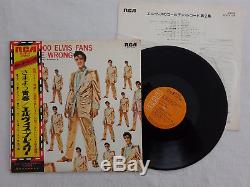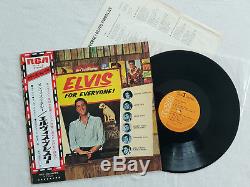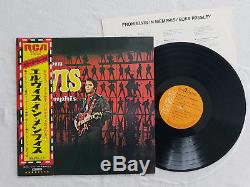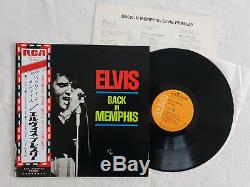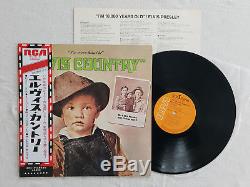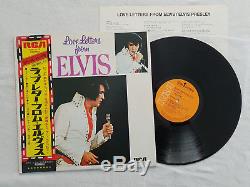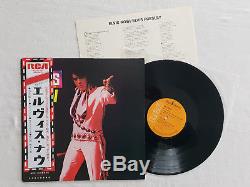 10 albums from 1973 Japanese RI series. RCA-6104, 6105, 6107, 6108, 6114, 6116, 6117, 6118, 6119, 6120. Jahr der Pressung / Year of issue. Zustand Vinyl / Condition Vinyl. Insgesamt sehr guter Zustand, kein Abverkauf von Schrott! Detaillierte Gradings siehe Liste unten / overall very nice condition, NO junk sale! Zustand Cover / Condition sleeve. Größtenteils ebenfalls sehr gut, ein paar haben allerdings die hellbraunen Flecken von der hohen Luftfeuchtigkeit in Japan / for the most part also very nice, however some sleeve do have age spots caused by the humid air in Japan.
RCA-6104 Elvis´ Golden Records --- ex/vg+ (grading record / cover) RCA-6105 King Creole --- vg+/vg+ (light staining) RCA-6107 A Date With Elvis --- vg+/vg (Cover has staining) RCA-6108 Elvis´ Gold Records Vol. 2 --- ex/vg+ (light staining) RCA-6114 Elvis For Everyone --- vg(+) light scratch on Side 2 / vg+ (insert with rip + creasing) RCA-6116 From Elvis In Memphis --- ex/ex RCA-6117 Back In Memphis --- ex/ex RCA-6118 Elvis Country --- ex/ex RCA-6119 Love Letters From Elvis --- ex/vg+ RCA-6120 Elvis Now --- vg+/vg(+) (backcover and insert with some staining). Banderole / OBI: alles gute Repros, keine Originale! / all OBIs are quality reproductions. Im Jahr 1973 hat RCA Japan insgesamt 20 frühere Elvis-LP´s wiederveröffentlicht (RCA-6101 bis 6120).
Hier die seltene Gelegenheit, mit einem mal die Hälfte dieser Serie zu erwerben. Es sind alle Textbeilagen enthalten, keine Poster.
In 1973, RCA Japan has reissued 20 earlier Elvis LP´s (RCA-6101 trough 6120). All lyric sheets are included, no posters.
Please check out the rates named in my auctions and wait for my invoice. Die Bewertung erfolgt aus zeitlichen Gründen nur optisch nach Goldmine.
Die meisten meiner angebotenen Platten sind zwischen 40 und über 50 Jahre alt, und auch optisch gut aussehende Platten können knistern. Bitte zur Kenntnis nehmen und nur bieten, wer sich daran nicht stört! Fragen bitte rechtzeitig vor Auktionsende stellen. Die Bilder sind Teil der Beschreibung, bitte genau betrachten und die Beschreibung aufmerksam durchlesen. Bei meinen Angeboten handelt es sich größtenteils um Platten aus meiner Sammlung, die ich inzwischen durch besser erhaltene Exemplare ersetzt habe, daher können kleinere Mängel und altersbedingte Gebrauchsspuren auftreten. Augenscheinliche Mängel werden von mir erwähnt, daher Rücknahme nur bei von mir übersehenen und nicht genannten Mängeln. Bitte kein Nachverhandeln, wenn die Beschreibung nicht gelesen wurde und die Platte nicht den Vorstellungen entspricht oder z. Kombiversand ist kein Problem, Bezahlung bitte spätestens 7 Tage nach Auktionsende.
Bitte nicht bieten, wer mit diesen Bedingungen nicht einverstanden ist oder nicht bezahlen kann. Privatverkauf, nach EU-Recht ohne Garantie und Gewährleistung. Records are visually graded only since I don´t have the time to listen to them all. Please note that a vintage record that looks fine still can have problems like crackling when it´s played. Items are located in Germany.
Deutschland: LP´s: innerhalb Deutschlands über Hermes (versichert, bei Wert bis 50 Euro) 4,90 Euro innerhalb Deutschlands über Hermes (versichert, bei Wert über 50 Euro) 5,90 Euro wahlweise auch Versand als DHL-Paket: 7,50 Euro. Singles: innerhalb Deutschlands als Großbrief, 1-5 Singles, 2,00 Euro innerhalb Deutschlands als Maxibrief, 6-15 Singles, 3,00 Euro Einschreiben zzgl. M = mint, absoluter Neuzustand.
Verwende ich nur bei verschweißten Platten oder wenn ich sicher weiß, die Platte ist noch ungespielt. I only use this grade when the record is sealed or I´m 100% sure it never has been played. M- = keine sichtbaren Mängel, annähernd neuwertig m- = near mint, no visible defects, (almost) as new.
Ex = excellent, minimale Gebrauchsspuren wie Schlieren von der Papierhülle ex = excellent, very light signs of use only like paper scuffs from taking the record out of the inner sleeve. Vg+ = ordentlicher gebrauchter Zustand. Es können vereinzelte oberflächliche Gebrauchsspuren auftreten, die das abspielen jedoch nicht beeinträchtigen. Die Platte weist noch einen schönen Glanz auf vg+ = nice, used condition. There might be some surface scuffs but these do not affect the playability of the record.
Slight crackling can be audible though. The record has still a very nice shine. Vg = gebraucht, aber noch in akzeptablem Zustand. Platte wurde häufig gespielt, leichte Kratzer sind möglich. Auch eine Platte sein, die eigentlich vg+ wäre, aber einen vereinzelten, spürbaren Kratzer aufweist.
Vg = used, but still in acceptable condition. The record has been played frequently though, light scratches can be found as well as surface scuffs and hairlines. Could also be a record which would be vg+ but has a single, feelable scratch for example. Vg- = ab hier wird es kritisch.
Es sind deutlich sichtbare Gebrauchsspuren vorhanden, entweder in Form von Kratzern oder allgemeinen Abnutzungserscheinungen vom vielen Abspielen. Auch (leichte) Hitzeschäden sind möglich.
Ab hier nur akzeptabel bei sehr raren, gesuchten Platten. Vg minus = it´s starting to get critical here. There are a lot of visible signs of use like scratches, scuffs, slight warps etc. Still, the record should play through without sticks or jumps.
G+ und g= abgenudelt und mit Kratzern, Vinyl kann sehr matt erscheinen vom vielen Abspielen, Label sind evtl. G+ and g = pretty run down with feelable scratches, Vinyl might appear dull from being played frequently, labels might show wear. Poor und fair = Schrottzustand / trashed. Zwischenstufen: gekennzeichnet mit einer Klammer.
Vg(+) liegt also zwischen vg und vg+ oder ist anders ausgedrückt ein vg mit Tendenz zu vg+ For a more detailed grading, I use + / - in brackets. Means a vg(+) record is somewhere between vg and vg+ (or if you will, strong vg or vg with the tendency to vg+). Watch my other Elvis auctions, coming soon: / Bitte auch meine anderen Auktionen beachten.
Verkaufe zahlreiche Elvis LP´s, EPA EP´s, Singles, CD´s, Bücher aus meiner umfangreichen Sammlung. USA LPM / LSP LP´s with Bonus Photos and Sticker; Living Stereo LP´s; Promo / Musterplatte 45 Singles and LP´s; Import LP´s; 25cm / 10 inch 78´s; various FTD and rare Import CD´s; many original US EPA EP´s; a lot of rare 45´s from Japan, Spain, Italy, Germany, France, Australia, New Zealand, Taiwan / Asia and all over the world.. The item "Elvis Presley 10 LP Sammlung Japan 1973 rare RCA RI Series OBI = Copy" is in sale since Sunday, January 6, 2019. This item is in the category "Musik\Vinyl\Rock & Underground\Rock 'n' Roll". The seller is "tcb_tom" and is located in Esslingen.
This item can be shipped worldwide.
Genre: Rock
Subgenre: Rock 'n' Roll
Erscheinungsjahr: 1973
Herstellungsland und -region: Japan
Eigenschaften: Import
Geschwindigkeit: 33 U/min
Plattengröße: LP (12 Inch)
Format: Album
Musikgruppe: Elvis Presley
Interpret: Elvis Presley